Erchonia Therapeutic Percussion Device
Save

0

%
Save %
Original price
$1,200.00
-
Original price
$1,200.00
Product Description:
The Erchonia Therapeutic Percussion Device is a hand-held mechanical adjustment/therapy device that is supplied complete – with no assembly required. It is a portable, self-contained unit, designed for ease of use with a unique "Galvanic Wave" action head that provides comfort to the patient receiving percussion as well as more control to the doctor providing the treatment.
The variable speed feature of the equipment offers the practitioner the control to change speeds to the desired output giving the highest degree of control. Each Percussor package is subjected to a thorough Quality Assurance inspection in order to ensure the highest quality product that can be made. The Percussor operates with a set of two attachment tips. One cone head tip, (sent attached), and one flat pad tip. The tips "twist" on and off. The leather hand strap is sent attached for your convenience. The wall-mounting bracket for the control box has complete mounting instructions included in the packaging.
The handheld portion's 7.5″ height, 5″ length, and 2.5″ width offers inherent flexibility. The control box's dimensions are 1.75″ height, 5.75″ length, and 5.5 in width. The Variable Percussor package is made up of the following equipment items:  two attachment heads, flat pad and cone head, Power cord, Leather hand strap, Wall mounting bracket for the control box.
Optional Attachments: Flat Roller, Spinal Roller. These attachments allow for the most effective and tailored percussive pain treatment.
NEW TRIGGER POINT SERIES ATTACHMENTS FOR ULTIMATE THERAPEUTIC PERFORMANCE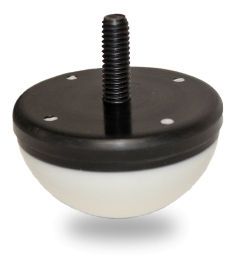 — Frost – The firm versatile plastic design allows the practitioner easy access to all parts of the anatomy. Frost is not just for static trigger point application but has the ability to slide over skin and clothing. It is ideal for long muscles like the IT band, SI issues, and forearm flexors.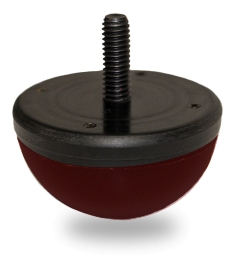 — Cabernet – This firm rubber design works very good for "athletes" and patients that benefit from a firmer technique. The Cabernet is excellent for breaking up local, deeper adhesions and elongating fascia. Its cylinder design is ideal for the scapular region as well. The attachment absorbs the uncomfortable sting of a firmer therapy technique.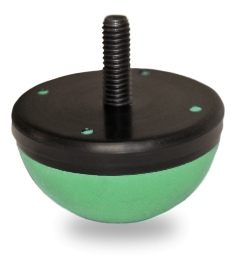 — Mint – This soft rubber design works on localized trigger point release. The Mint attachment is best used for static or stationary applications. The soft head is necessary for the "typical" patient and their tolerance to muscle treatment. It provides a big difference in absorbing the discomfort of a firmer head and has the right amount of giving to apply the correct pressure for the best results.

SUMMARY
Variable speed 1 to 3600 Hz
Patented galvanic motion
New Lighter version
Heat dispensing electronics
Two-year warranty
Comes with Carrying Case
ISO 9001 Quality Certified
Perfect for chiropractors and other doctors looking to provide pain relief/therapy.